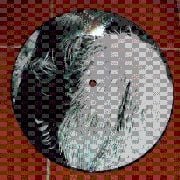 £

5.00 - On Sale
Judy Dyble - FRAGILE.
IN STOCK, AND SHIPPING NOW
Numbers from number 2 will ship strictly in order of purchase.
Release Date – 20 December 2010
Format 7" Picture disc's
Cat. No BM1011V
Label Brilliant/Genepool
# Limited to just 500 units
# Each individually numbered
# 180gm collectors vinyl
# Features the photography of Crimson
biographer Sid Smith.
Track listing
Waiting
Sparkling
Fragile
After the exalted full length award winning album release 'Talking With Strangers' in 2009, popular and critical demand has ensured this limited, instant collectors edition of the bonus tracks (outtakes just doesn't do these works justice) on a sumptuous, limited to 500 numbered picture disc, will be an essential 'must have' for Judy fans, and vinyl enthusiasts, genre collectors, and Fairport and Crimson types the world over.
# 180gm high quality collectors picture disc vinyl
# Strictly limited to 500 numbered units.
# Exclusive distribution only via HMV and artist websites.
Dyble's comeback has been astonishing, nods from influential journalists and critics the world over, an ever growing on line presence, and with a brand new album set for release in early 2011, her unique, and contemporary prog/folk leanings have brought a whole new world of fans to join hands with those already enthusiastic for the 3 ground breaking albums she has composed over a 40 year + career.
Well packed for despatch, with additional siffeners, in mailer.
Features Tim Bowness/The Curator/Sand Snowman.
Side 1 features a vintage picture of Judy and her scenster husband (Simon Stable) circa 1970, never before relesed, and the B side features an iconic shot by King Crimosn illumini Sid Smith